Conservation Program
A major part of the SC Confederate Relic Room and Military Museum's mission is to preserve all the artifacts we hold in trust for the people of South Carolina. SCCRRMM conserved over 60 flags in its collection through a conservation program that began in 1997 and was active for over a decade. The SC Division of the SCV and the Museum won a joint award of achievement from the South Carolina Federation of Museums in 2012 for the Bold Banners Exhibit and the Flag Conservation partnership that raised $100,000. Three uniform coats, two knapsacks, ten ambrotypes, and about twenty weapons have also been conserved by the Museum. Most recently, SCCRRMM has focused on conserving uniforms and other textiles in the collection. 
YOU CAN HELP PRESERVE HISTORY!
Conservation is the only way to ensure the preservation of objects in the Museum's collection, but it is costly . By sponsoring a particular flag, uniform, weapon, or other artifact, you help offset conservation expenses. A donation of any amount is tax-deductible.
Checks should be made out to the SC Confederate Relic Room and Military Museum and mailed to SC Confederate Relic Room and Military Museum, 301 Gervais Street, Columbia, SC 29201.Your generous support is greatly appreciated.
If you have questions about our Conservation Program or wish to contribute, please contact
Allen Roberson
, Director, via email or call 803-737-8096.
See the artifacts for which the museum is currently fundraising:
1. Uniform of Corporal Robert Hayne Bomar:
This uniform consists of a frock style coat and trousers. Both are made of jean cloth with buff or yellow fabric tape at the coat collar and on the outside seam of the trousers. The uniform is a product of the Porter Industrial School for Girls in Charleston, SC. Bomar enlisted as a Corporal in Company A of the infantry battalion of the Hampton Legion, also known as the Washington Light Infantry Volunteers, on June 12, 1861. He was wounded at First Manassas/ Bull Run by three musket balls, "one in the breast and two in the arms. He was promoted to sergeant, but he was discharged in October 1861 before he could exercise the rank.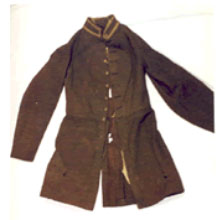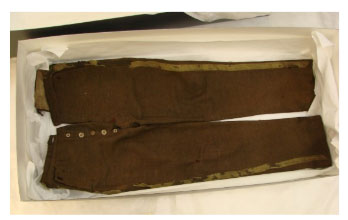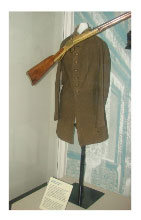 Condition: Discoloration, staining, old surface grime, fading, cuts/tears, holes, loss of warp and weft, weak seams, old insect damage, and fraying are problems with this uniform. Conservation estimate: $10,000-$12,000.
2. General James Chesnut's Frock Coat:
Chesnut's double breasted frock coat is made of a wool/cotton blend fabric with off-white cuffs and collar. Chesnut was born in Camden, SC, in 1815. In 18140, he married Mary Boykin who later wrote the famous Diary from Dixie. He served numerous terms in the SC house and senate and was elected to the US Senate in 1858. He was an aide to General Beauregard at Fort Sumter, a member of the Provisional Confederate Congress, and eventually served on the staff of Confederate President Jefferson Davis. Appointed to brigadier general in 1864, his place in SC military history is well noted.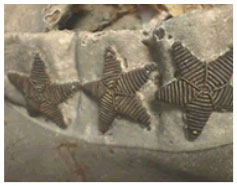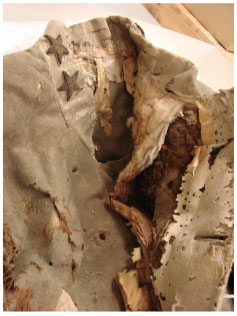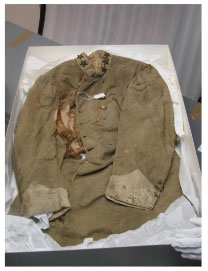 Condition: The coat is in extremely poor condition. It is entirely unstable, with holes, losses, and weak seams too numerous to count.
Conservation Estimate: $40,000
3. Elbert Bland's Uniform
Lt. Colonel Ebert Bland was wearing this blue/gray wool frock coat and trousers when he was killed at the Battle of Chickamauga. He entered Confederate service as a surgeon in Maxcy Gregg's 1st Regiment, but he desired to be closer to the action. He was then elected captain of Company H, 7th SC Infantry Regiment and later became a lieutenant colonel.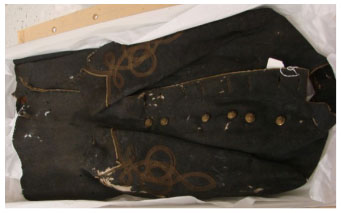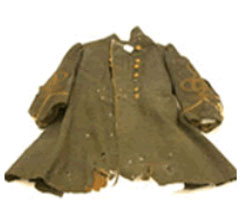 Condition: Stains, old surface grime, accretions, fading, stiffness, holes, losses, weak seams, and old insect damage have ravaged this textile over time.
Conservation Estimate: Frock: $9,995 Trousers: $7,025